Sign up to Wool.com and create your own personal wool hub.
Merino Superior Sires 2020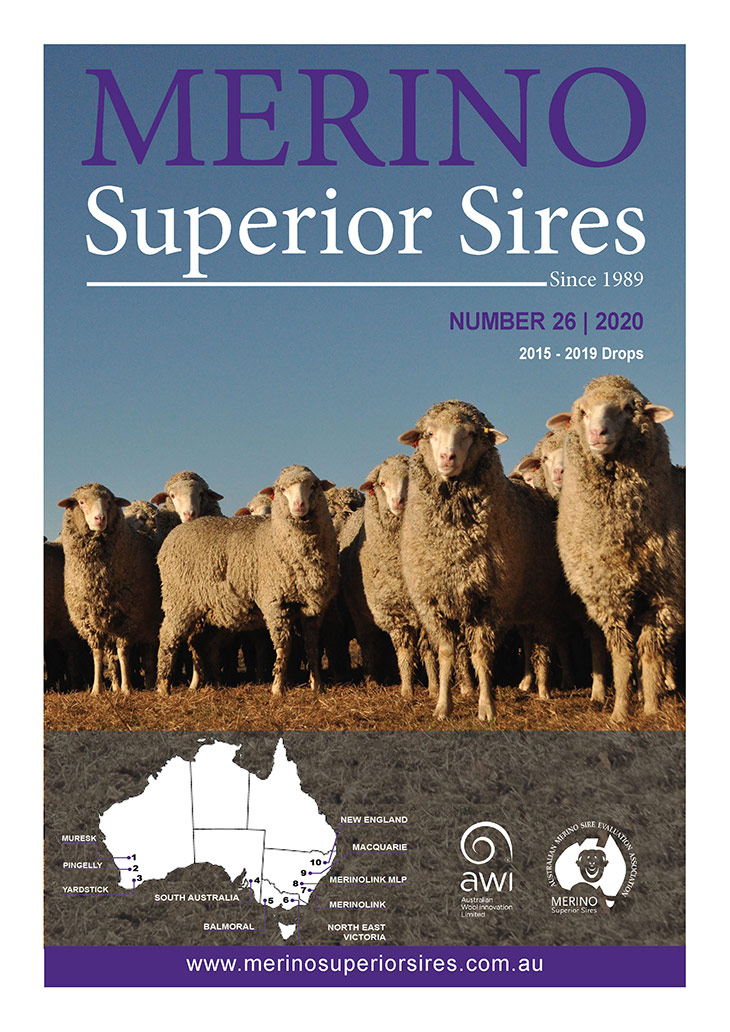 Merino Superior Sires No.26 was released in October and is available, along with other Merino Sire Evaluation program information, at www.merinosuperiorsires.com.au
The 2020 Merino Superior Sires No 26 publication has been published by the Australian Merino Sire Evaluation Association (AMSEA) reporting the results of the 350+ sires entered in Merino Sire Evaluation between 2015 and 2019. Results include MERINOSELECT ASBVs for both wool and carcase traits, alongside widely used indexes. These results add to the within-site classing, visual and measured results reported by trial sites on the Merino Superior Sires website.
Merino Superior Sires reports Australian Sheep Breeding Values (ASBVs) for each sire for a range of measured traits including, clean fleece weight, fibre diameter, staple strength, body weight, eye muscle depth, fat depth, plus worm egg count. Breeding Values are also included for the visual trait of early breech wrinkle and the percentages of progeny classed as Tops and Culls. Three standard industry indexes are reported, DP+, MP+ and FP+, plus the index developed specifically for AMSEA, WP+ (Wool Production Plus).
The Top 50 sires are also reported in Merino Superior Sires for each index, along with individual trait ASBVs, Classer Grade and Poll/Horn status. In addition, an online version reports the All Time Top 50 sires for these indexes and, for the first time, a report outlining industry's high use sires and their results will also be available online. Merino Superior Sires is available for download, as are the corresponding within-site Merino Sire Evaluation reports, at www.merinosuperiorsires.com.au.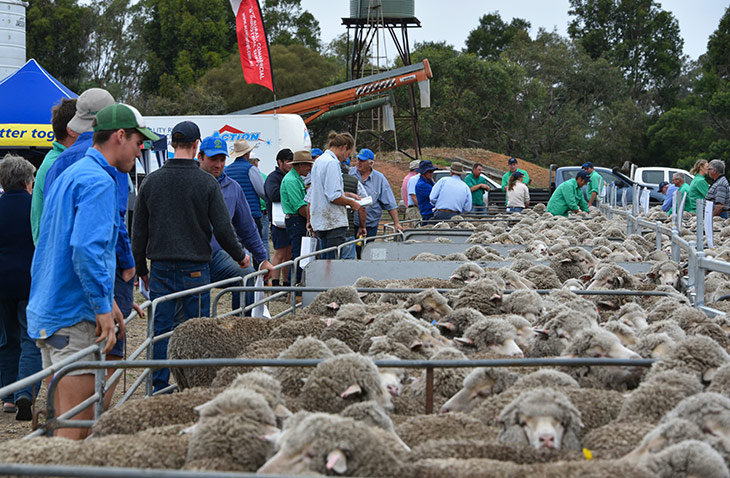 The crowd at Balmoral's 2020 Field Day. PHOTO: Balmoral Breeders.
Merino Sire Evaluation takes sire nominations from any ram breeder or purchaser (with breeder permission) for entry at trial sites across Australia. Sire Evaluation provides benchmarking against other leading industry sires by providing the same ewes for sires, and then the same management and environment for their progeny at each site.
Entry enables:
benchmarking of a sire's genetics against the best in the industry
assessment at older stages such as hogget and adult
creation or improvement of flock linkage with MERINOSELECT
promotion of semen, stud ram and flock ram sales.
Entered sires are joined via artificial insemination with the resulting progeny evaluated for a range of traits relative to the progeny of other entered sires. All progeny are visually classed, measured and assessed without sire identification by independent, specialised operators for a wide range of traits including wool, carcase, breech conformation and parasite resistance.
A site field day enables inspection of the sire progeny groups alongside their current results. Sire results are reported at the site level as within flock breeding values (FBVs) as well as in Merino Superior Sires and via MERINOSELECT as ASBVs. The publication of ASBVs is made possible by using strong link sires at each site that allow the direct comparison of sires across all sites and years.
MORE INFORMATION
Download Merino Superior Sires #26 and within-site reports at www.merinosuperiorsires.com.au
Nominate a sire for entry in AMSEA's Sire Evaluation program by emailing merinosireevaluation@bcsagribusiness.com.au
Subscribe to trial results and upcoming field day notices via www.bit.ly/AMSEA_Subscription
This article appeared in the December 2020 edition of AWI's Beyond the Bale magazine. Reproduction of the article is encouraged, however prior permission must be obtained from the Editor.