Sign up to Wool.com and create your own personal wool hub.
Inaugural Nanshan Wool Supremacy award winners announced
Kevin Xing from Nanshan said we are most pleased to announce that the inaugural award is a draw with both farms scoring 97 points for their wool fibre.
"The fleece was judged against criteria that included position of Break Middle (pobM) Greasy staple length(gsl), staple strength (nkt), vegetable matter % (vm %) Co-efficient of variation hauteur (Cvh of top), co-efficient of variation of fibre diameter (cvd) and the dry combing yield," Mr Xing outlined.
"The winners may not have the finest wool in terms of micron, but their wool is judged as best value for Nanshan producing the best possible fabric. As such, we decided that micron and fibre diameter would play little part of marking criteria.
"Both winners grow 19 to 20.5 micron, which is very pleasing to us as quite often the established Australian industry awards are almost exclusively the domain of super fine and ultra-fine growers.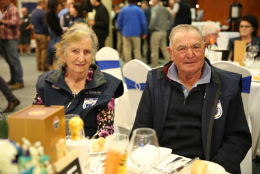 "That is not to say that those categories are not able to successfully compete as Nanshan also buy wool as fine as 14.5 micron as part of their new ultra-fine program under co-development with AWI R&D assistance."
The Nanshan Wool Supremacy Trophy is a new award for the processing ability of wool purchased by Nanshan. In conjunction with AWI, we at Nanshan developed a points-based system allocated for all qualities that can affect the final product overall.
This year there were 987 farms eligible for this inaugural award from all regions across Eastern Australia. It is the intention of Nanshan to carry this award into perpetuity and become a highly sought-after annual award for all woolgrowers whom supply the Nanshan group the valuable raw material required to make a quality wool garment.
The first prize winners receive two Virgin Australia business class tickets to Hong Kong, travel to Longkou to visit the Nanshan factory and accommodation.
The Inaugural Nanshan Wool Supremacy award was held in conjunction with the second annual wool forum and wool golf tournament hosted by the Nanshan Group at the Sweven property and Riverside Oaks.
The event show cases Nanshan's ongoing support and appreciation for Australian woolgrowers and highlights the strong relationship between the iconic industry and with AWI.