Sign up to Wool.com and create your own personal wool hub.
Flock to the Baggy Green hits a ton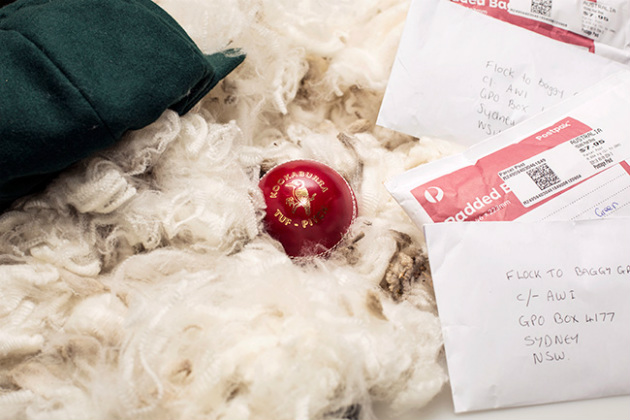 Wool donations are coming through for the Flock to Baggy Green project.
Australian growers have been putting their fibre behind the game by donating wool to be made into the next batch of Baggy Green caps to be worn by Australian cricketers as part of the Flock to Baggy Green project.
Wool from across Australia is being collected and processed into woven fabric to be donated as finished cloth to Cricket Australia next summer. Every woolgrower who donates is to receive a sample of the finished woven green fabric as a keepsake to place in the woolshed, office or local cricket club.
The Flock to Baggy Green project is the initiative of Marius Cuming and Stephen Feighan from AWI who have been delighted with the strong response so far.
"The generosity is wonderful. We've had donations of wool from prize rams and lots of envelopes and bags sent to AWI, even an entire bale from one incredibly generous cricket lover in South Australia has been donated to the cause. It just shows the love people have for both cricket and the wool industry. All wool and any amount is most welcome," Mr Cuming said.
Cricket Australia CEO, James Sutherland added "the initiative is also a reminder of the strong link between Australian cricket and rural communities, with regional areas producing some of our most talented past and present players and many more people having a personal connection to cricket, and I am looking forward to hearing the stories of participating woolgrowers over the course of this project."
Woolgrowers can still donate as they have until the Friday 30 March to send a sample of their wool, complete with their name, property, fibre diameter, telephone number and email address to:
Flock to Baggy Green 
c/- AWI 
GPO Box 4177 
Sydney NSW 2001