Sign up to Wool.com and create your own personal wool hub.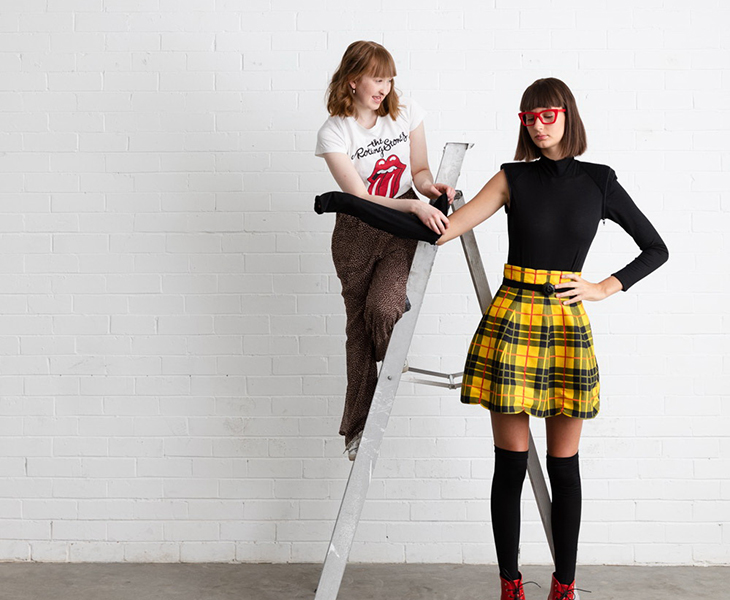 From garments that provide acupressure, to a practical jacket for dog walkers and an outfit that helps guide a visually impaired person, the winners from 2019's Wool4School design competition were chosen for how well they incorporated technology to enhance the outfit's purpose.
The theme of the 2019 edition of Wool4School challenged students to design a garment or outfit that embraces the use of technology to enhance garment performance or function. The participants took on this challenge and applied their talent into the designs that went above and beyond expectations.
"I was impressed with this year's entries. They were very diverse from previous years and it really shows how students are absorbing the information," said Wool4School Project Manager Ashley Hollis.
A panel of judges including leading Australian fashion designer Jonathan Ward and key industry representatives carefully assessed each submission before eventually deciding on the winners and runners-up.
Jonathan Ward highlighted the creative flair in the design of Year 10 winner Prue Spencer, whose entry was designed to enhance the lives of blind and visually impaired teenagers-young adults.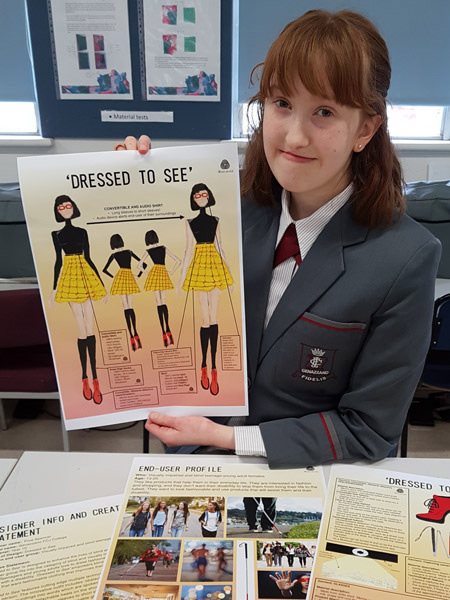 Wool4School Year 10 winner Prue Spencer from Genazzano FCJ College in Melbourne had her 2019 winning design turned into reality by leading Australian fashion designer Jonathan Ward. Prue's winning design 'Dressed to See' features cutting edge technologies that work together to guide a visually impaired or blind person.
"Prue Spencer's winning design answers the brief with a contemporary head-to-toe concept embracing Merino wool with technology in the garments and accessories. It's exciting, colourful and concise in its presentation and creative flair titled 'Dressed To See'."
Prue said that fashion is more than just aesthetics, it is about helping a person reach their full potential by assisting them in a practical way.
"This was a great opportunity to emphasise the collaboration between design and disability," she said. "There is no reason why fashion cannot have a positive impact on society by being a lens on popular culture and at the same time providing a practical aid to those with a disability."
Now in its eighth year, Wool4School invites students to think about the versatility of various wool fabrics as part of a creative design of their own.
Wool4School has involved 100,000 students
First launched in 2012, Wool4School is an annual student design competition that has involved more than 100,000 students, not only learning the fundamentals of fashion design but also exploring the benefits and versatility of wool and the fabric it creates.
"The aim of the Wool4School design competition is to teach school-aged students the benefits of Australian wool so that these future designers and consumers understand wool's benefits and are more likely to use Australian wool as their fibre of choice," Ashley added.
Open to all Australian school students from years 7 to 12, the Wool4School competition invites students to design an outfit using a minimum 70% Australian wool. By putting wool into the minds of Australia's future fashion designers, Wool4School encourages students' innovative thinking and creative design, in keeping with The Woolmark Company's tradition of fostering the education of the future generation.
On the back of the success of Wool4School in Australia, AWI now also runs the student design competition in the key markets of the United Kingdom, Hong Kong and Italy.

MORE INFORMATION
For details of all the 2019 winners and how to enter the 2020 competition, visit www.wool4school.com
ENTER THE 2020 WOOL4SCHOOL COMPETITION
Registrations are now open for the Australian edition of the 2020 Wool4School competition.
This year, students are asked to design an outfit inspired by flora and fauna and incorporating fibres which are gentle on the earth. Wool should make up at least 70% of the outfit's share, comprised of up to 4 pieces.
There are once again a host of amazing prizes on offer.


HOW TO GET INVOLVED

WOOLGROWERS AND PARENTS
Contact your local high school and encourage them to get involved in the Wool4School program. Information for schools and teachers is available at www.wool4school.com
YEAR 7-12 TEACHERS
Simply register your school and year groups at www.wool4school.com to receive free online resources for the classroom.
YEAR 7-12 STUDENTS
Learn more about the exciting competition at www.wool4school.com and talk to your teacher about getting involved.
KEY DATES
Registrations close: 29 May 2020
Submissions close: 23 July 2020
Announcement of winners: 20 August 2020
REGISTER HERE