Sign up to Wool.com and create your own personal wool hub.
Be a part of the digital revolution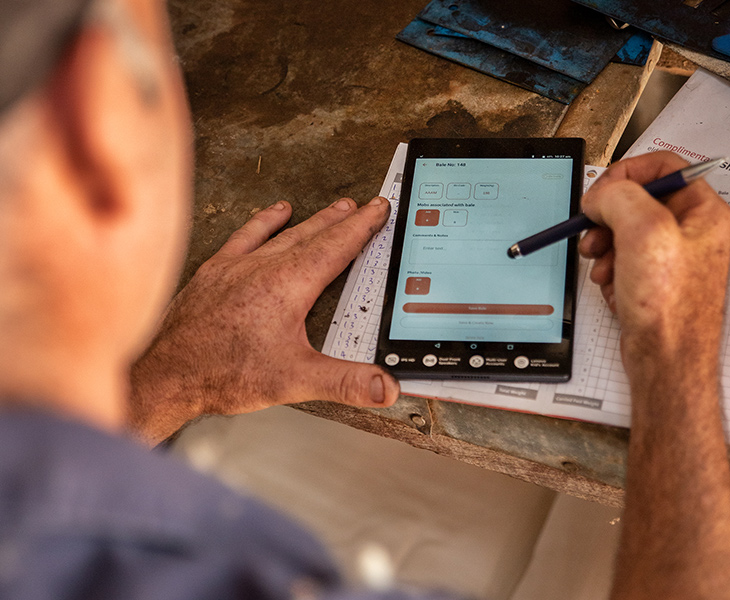 Across the world, the COVID-19 crisis has illustrated the strength of businesses that have embraced e-commerce and digital platforms. WoolQ is an opportunity for the Australian wool industry to harness the digital revolution to build its profitability.
Across the world, the COVID-19 crisis has highlighted that individuals and enterprises are more than ever looking to digital platforms to undertake research, communication, and business transactions. For the Australian wool industry and woolgrowers, WoolQ provides an opportunity to harness digital efficiencies across the wool-growing and selling cycle.
In all industries, global and domestic, 2020 has seen a significant surge in the adoption of digital platforms and an increased reliance on e-commerce. Many of the business challenges brought on by the COVID-19 crisis have been alleviated or mitigated by the substitution of traditional commerce by e-commerce and other digital channels. In fact, businesses with a significant e-commerce component have gone from strength to strength. E-commerce is here to stay and will continue to grow in importance long after the pandemic is over.
WoolQ aims to be the online focal point of the Australian wool industry by delivering information, data, selling choices and trading opportunities to woolgrowers, their agents and other industry professionals in a single online venue.
The idea for WoolQ began five years ago when the Wool Selling System Review (WSSR) proposed "an industry focused digital information portal as a tool to promote transparency and choice in the wool industry". The development of this platform was subsequently unanimously supported by the separately formed Wool Exchange Portal (WEP) Working Group, which comprised members from AWEX, AWTA, AWH, exporters, brokers and woolgrowers.
The WoolQ platform was delivered to the wool industry in stages from February 2018 through to July 2019, on time and on budget.
WHAT IS WOOLQ AND WHAT DOES IT DO?
In general terms, WoolQ is a platform that aims to be the primary online entry point for woolgrowers and their business partners to input, access and store information and data relating to their wool-growing enterprises. WoolQ can provide woolgrowers with a suite of tools to analyse their data to enable them to make more informed decisions regarding the production and sale of their wool.
WoolQ provides a platform for wool industry businesses to develop and promote rich profiles and value propositions that can be easily searched and shared by those users wishing to build industry partnerships/relationships.
It also delivers online selling options that allow an alternative avenue for woolgrowers, their brokers and registered buyers of Australian wool to promote and transact their wool interest outside the existing selling venues at a lower cost.
Like so much new technology, users will discover unique benefits for their specific enterprises as they continue to use the platform.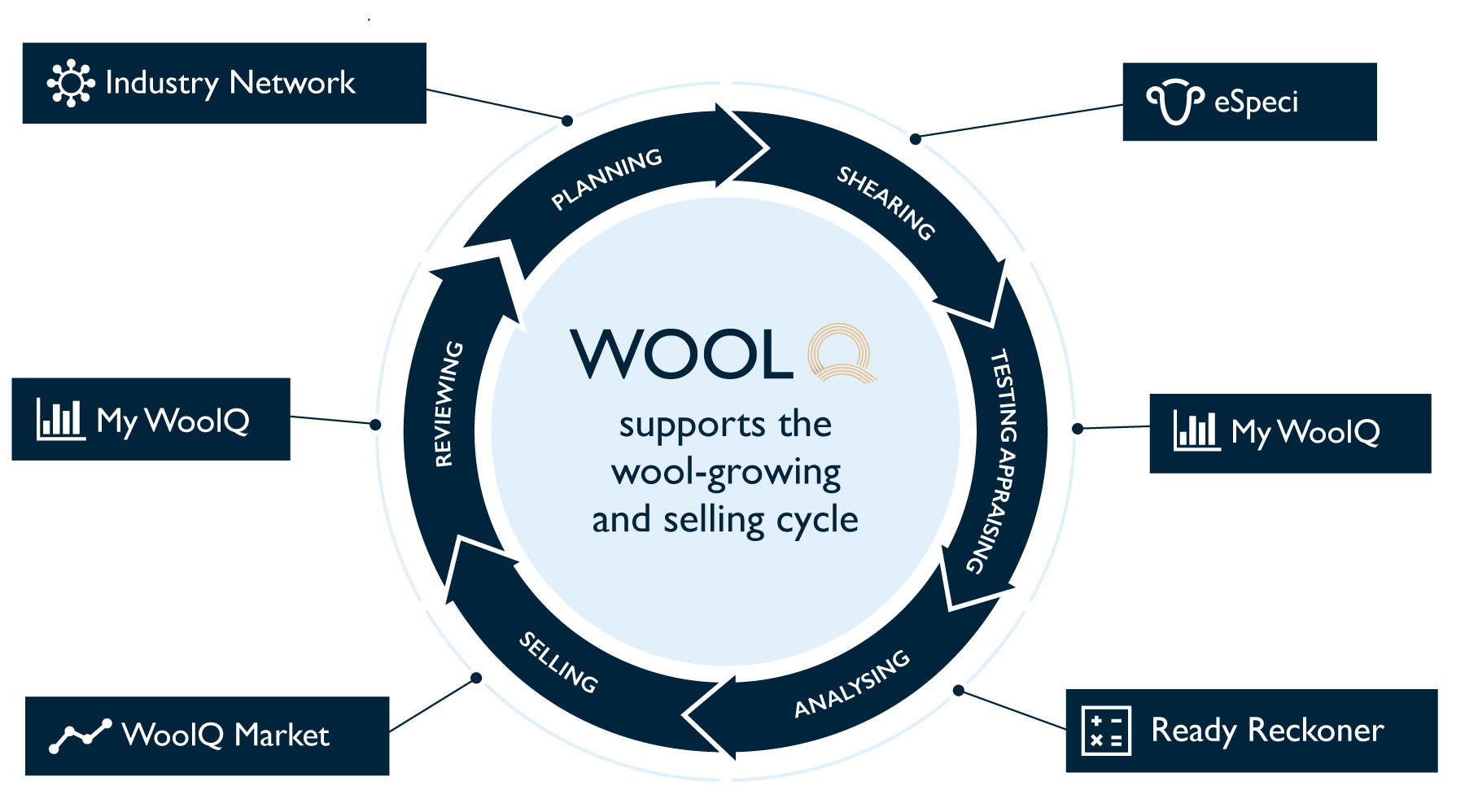 eSpeci is a digital copy of the paper speci – from the wool book through to the wool specification. If you can do a paper speci, you can do an eSpeci.
MyWoolQ is the storage area for all your clip information.
Ready Reckoner is a tool with two sections aimed at helping you gauge the value and assess the performance of your clip: 'Market Analysis' allows you to get an instant estimate of the value of your clip from up-to-date market pricing; 'Market Results' allows you to see recent sale prices to benchmark and evaluate your clip performance against similar wool in the market.
WoolQ Market makes Australian wool trading easy, fast and efficient for buyers and sellers.
Industry Network houses Australia's first industry directory of woolgrowers, classers, brokers and buyers. It allows woolgrowers to promote their businesses, develop partnerships and learn of new trends and developments.
Many of the downstream consumers of quality Australian wool are demanding a level of traceability to promote their products. AWI is focused on delivering meaningful data traceability for these consumers. For its part, WoolQ digitally delivers the first stages of that supply chain traceability journey by collecting and storing verifiable data from the shearing shed to the Australian port.
The WoolQ strategy was always about the medium to long term; the returns from the platform would increase over time. These returns include both microeconomic returns to woolgrowers from their use of the platform's tools, and the macroeconomic value of the platform as a whole to industry.
HOW DO I ACCESS WOOLQ?
Users first need to register at www.woolq.com. Easy-to-follow video tutorials and user guides are available on www.woolq.com along with a customer assistance service.
This article appeared in the December 2020 edition of AWI's Beyond the Bale magazine. Reproduction of the article is encouraged, however prior permission must be obtained from the Editor.